PARADE ROUTE
SUNDAY, FEBRUARY 4th, 2024 – PARADE THEME – "Great American Fiction"
SUNDAY, FEBRUARY 4th, 2024
PARADE THEME – "Great American Fiction"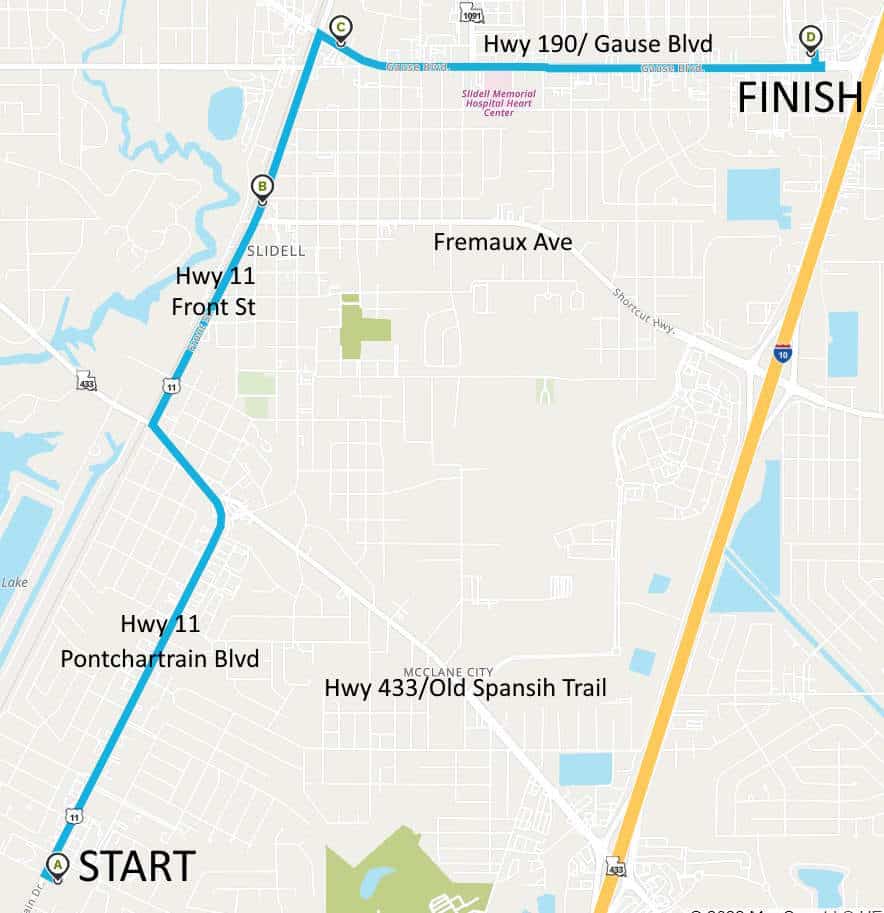 The parade starts at the corner of Spartan Drive and Pontchartrain Drive (Hwy 11).
The parade then heads north on Pontchartrain Drive into the heart of Slidell passing many of Slidell's staple businesses such as Ace Insurance, Castaway's and the Southside Cafe.
The parade route then quickly jogs north and continues up Front Street (Hwy 11) until it reaches Gause Boulevard, one of Slidell's signature streets. 
The parade then takes a turn east onto Gause Boulevard (Hwy 190) and heads towards the interstate (I-10), passing Slidell Memorial Hospital, Cross Gates Athletic Club followed by Copeland's restaurant and The NOLA Southern Grille before terminating near the Midtown Square Shopping Center (Hobby Lobby and Office Depot).
| THEMES | | |
| --- | --- | --- |
| 2024 | Great American Fiction | XXXIX |
| 2023 | A Day at the Races | XXXVIII |
| 2022 | You Know It's Mardi Gras When… | XXXVII |
| 2021 | Where there is a will, there is a way | XXXVI |
| 2020 | Bars of Yore and Lore | XXXV |
| 2019 | Dionysus and the Wiseguys | XXXIV |
| 2018 | Dionysus World Premiere | XXXIII |
| 2017 | Fraternity Days | XXXII |
| 2016 | Dionysus Tours the World | XXXI |
| 2015 | Made For Each Other | XXX |
| 2014 | Boyhood Memories | XXIX |
| 2013 | Dionysus Honors Our Friday Night Heroes | XXVIII |
| 2012 | Dionysus Salutes the Military | XXVII |
| 2011 | Dionysus Salutes the Saints | XXVI |
| 2010 | Dionysus Turns 25 | XXV |
| 2009 |  How Do You Like Us Now? | XXIV |
| 2008 | It's 5 O'clock Somewhere | XXIII |
| 2007 | Dionysus Goes Prime Time | XXII |
| 2006 | Dionysus Goes Caribbean | XXI |
| 2005 | Dionysus Celebrates 20 Years | XX |
| 2004 | Things That Go Together | XIX |
| 2003 | Louisiana Bi-Centennial | XVIII |
| 2002 | Fantasy, Legend, & History | XVII |
| 2001 | Movies | XVI |
| 2000 | Las Vegas Swings | XV |
| 1999 | Festivals | XIV |
| 1998 | Entertainment | XIII |
| 1997 | Kids Games | XII |
| 1996 | Dionysus and Music | XI |
| 1995 | Fiction and Fantasy | X |
| 1994 | Dionysus Vacations the World | IX |
| 1993 | Famous Lovers | VIII |
| 1992 | Columbus – 500 Years | VII |
| 1991 | Men and Women of History | VI |
| 1990 | Movies and Music | V |
| 1989 | Salute to Saint Tammany | IV |
| 1988 | Louisiana Fairs & Festivals | III |
| 1987 | It's Party Time | II |
| 1986 | Mardi Gras Comes to Slidell | I |